German Shepherd Puppies For Sale
German Shepherd Puppies
We love German Shepherds and breed only as a hobby so that others can enjoy the love and companionship of a wonderful German Shepherd Dog. We only breed from top-quality, world-class West German lines with impeccable temperaments and type. Our puppies grow into excellent dogs suitable for confirmation, obedience, therapy, assistance dog, search and rescue, K-9 training, Schutzhund and most importantly, for the ever present loyal companion.
All litters are raised in our home, well socialized and each held, cuddled and socialized throughout the day. The result is a pup that is comfortable around people, children, vehicles and other animals. It is also not uncommon for our puppies to be housebroken by the time they leave our house. We are located in Illinois just outside of Chicago.
We only have a few litters each year and our puppies are always highly desired. For more information on our German Shepherd Puppies for sale, please Call or E-mail via the
Contact Us
page. Reserve your puppy today!
Puppies Born on April 22, 2015
8 Puppies - 3 Males, 5 Females
Here are some pictures of Lotta's puppies.
The puppies are 7 weeks old in the following pictures.
(taken Tuesday, 6/9/2015)
The puppies are 6 weeks old in the following pictures.
(taken Wednesday, 6/3/2015)
Bonus Pictures
(click to enlarge, click on left/ right side of image to go to next/ previous image)
The puppies are 5 weeks old in the following pictures.
(taken 5/28/2015)
Another nice day outside for playtime and pictures. The fresh air gets them ready for a nap.
The puppies are 4 weeks old in the following pictures.
(taken 5/21/2015)
The puppies got their first outdoor playtime yesterday. They enjoyed playing in the grass and exploring the yard. They are really starting to play with each other now.
The puppies are 3.5 weeks old in the following pictures.
(taken 5/16/2015)
The puppies are spending more time playing with each other and walking around, although they do still sleep quite a bit. They all like to cuddle and climb on us when we're on the floor with them.
Here are some pictures of Lotta's puppies.
The puppies are two weeks old in the following pictures.
(taken 5/6/2015)
Their eyes now open and are beginning to hear sounds. They are also just starting to walk. They've realized it's quicker to get to mom for feeding time that way! The puppies now weigh between 2.5 to 2.75 lbs.
The puppies are one week old in the following pictures.
(taken 4/29/2015)
They mostly sleep and nurse at this age. Their eyes and ears are not yet open, so they crawl over to their mom by their sense of smell. They've all been steadily gaining weight at about 1-1.5 oz. a day and now weigh about 1.75 lbs.
The puppies are one day old in the following pictures.
(taken 4/23/2015)
Note: The color on the puppies is nail polish so we can tell them apart during the first few weeks. We keep track of their weight daily to make sure they are all eating and growing normally. When they're this young, it's hard to tell them apart.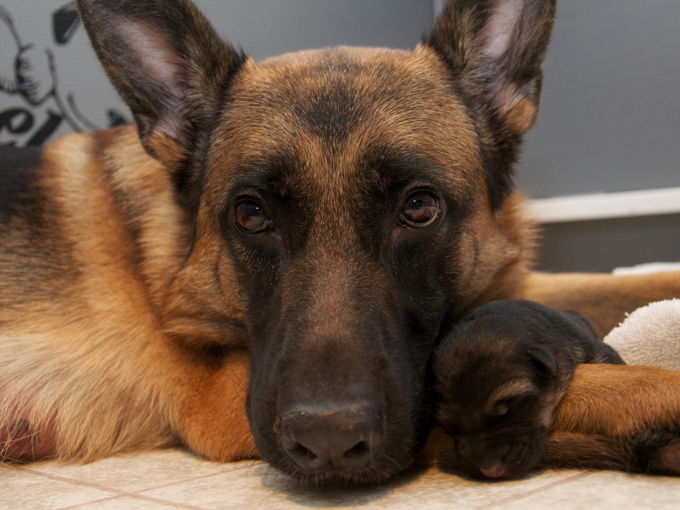 Balti & Karo
Born: February 24, 2015
Lotta & Kai
Born: August 29, 2014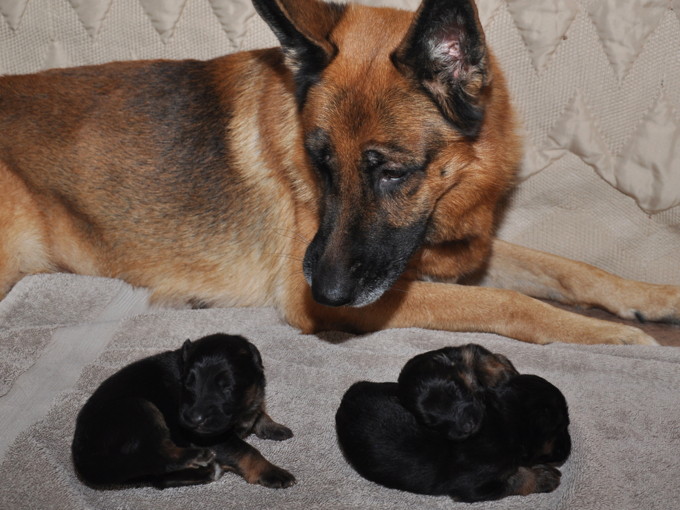 Nelly & Kai
Born: October 23, 2013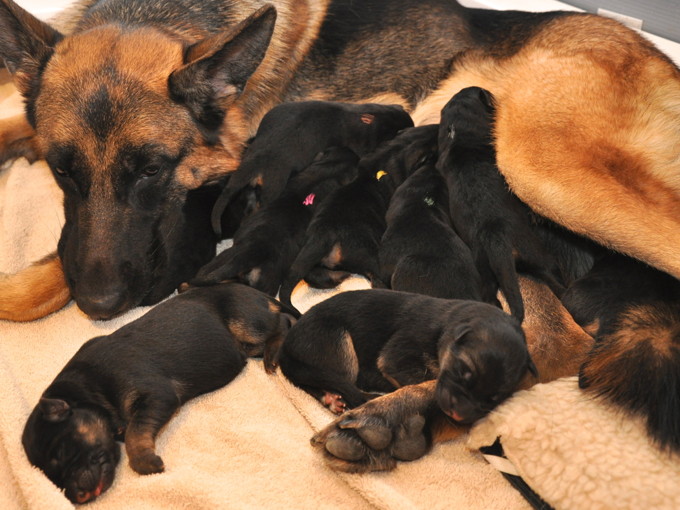 Balti & Kai
Born: October 20, 2013
About Long Coat German Shepherds
While we do not breed specifically long coat German Shepherds, we do have long coats from time to time, so please continue to check our puppy page.

Long coat German Shepherds are quite beautiful, with their longer, silky coat. They are known to have excellent structure and very good health. They have exceptional temperaments and tend to be a little easier to train and usually have a little extra sweetness to their personality.

They are more rare, because they are only occasionally produced when both parents carry the recessive gene. They are now recognized in Germany and accepted in German confirmation shows.

Long coats do not produce as dense of an undercoat and contrary to common belief, do not shed any more that stock coat German Shepherds.

People who have had a long coat German Shepherd usually prefer them when looking for another puppy.
In addition to our own litters, occasionally we will bring in German Shepherd puppies from litters born in Germany when they are from exceptional quality parents.
Each year, there is a German Shepherd Dog show held in Germany. The show is the Sieger show and it is the most important German Shepherd Dog show in the world. Dogs are brought in from all the European countries, the United States, South Africa, China, Japan and many other countries. The top dogs in this show are the best in the world.
The dogs begin by having to pass the courage test, which include two bites on a sleeve worn by a helper while receiving stick hits from the helper. The dogs must bite and hold onto the sleeve until the command is given to release their bite from the dog's handler. After the courage test, the dogs then stand before the judge where its body structure, teeth and movement in gaiting is evaluated.
The judge then narrows the field to the top 50 dogs in each class. Classes are for gender and age of the dogs. The top 50 dogs in each class are then brought into a ring for final judging and placement. During this time the dogs will gait around the outer edge of a soccer field. The dogs will need to gait both on-leash and also off-leash. They will need to gait at normal and also fast paces. All the while, the judge will be evaluating the dogs and moving them into different positions with the best dogs at the front. Usually this will go on for a couple of hours. The top groups of these dogs will receive a VA rating and they will be ranked within that rating. The top dog in the show will be ranked VA1, the second best will be VA2. The judge can vary how many VA rating he gives out depending on the number and quality of dogs in the show. In 2011, the judge gave out 12 VA ratings. After the VA rating, the judge starts giving out V ratings starting with V1, then V2, etc.
Contact us if you're interested in import puppies from some of the top German Shepherds in the world.