Irana van de Herdersfarm
Congratulations Irana, on earning your
International Service Dog Certification from Top Dog and your Therapy Certification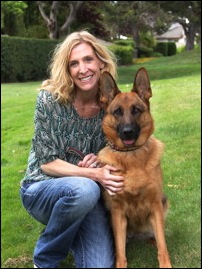 My daughter has a lot of back problems caused by an auto accident years ago, which has made it difficult for her to do common, everyday tasks. I knew Irana would be a great match for her and provide her with wonderful companionship. My daughter had even bigger plans for Irana. She worked with Irana and has gotten her certified as a service dog. This took a lot of hard work from both of them and I'm very proud of their accomplishments. Prior to having Irana, my daughter hadn't gone out to the drug store or a grocery store for over a year. With her, she is able to make these trips. Irana opens doors for her, braces for her to get up from chairs and from the floor, and will pick up items for her. They work as a great team. Irana is still learning new tasks such as retrieving items and bringing them back and is learning this quickly.
My daughter also likes to give back to others in need. She had gotten her last Shepherd, Tunia, certified as a therapy dog and would spend time visiting children with cancer and other serious illnesses at Lucile Packard Children's Hospital. After the service dog certification, it was easy for Irana to get her therapy certification. They're carrying on in Tunia's footsteps brightening up the lives of the children.
Irana is currently 4.5 years old in the following pictures.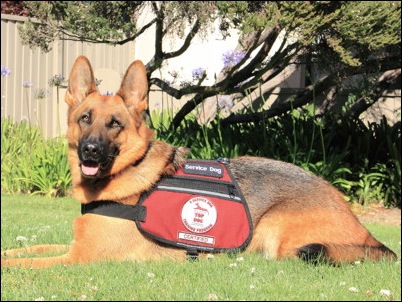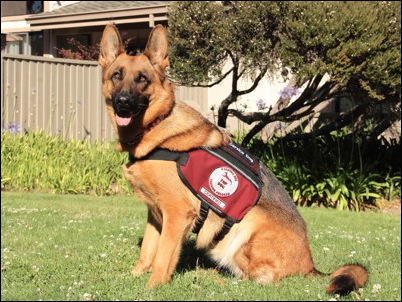 Irana's Pedigree
Irana's Sire:

Fello v.d. Zomerdijkslanden

SchH3 a1

VA1 Zamp vom Thermodos

SchH3 a1

VA Quantum von Arminius

SchH3 a2

VA Dux della Valcuvia

SchH3 a1

Only vom Wutachtal

SchH1 a1

Ute vom Thermodos

SchH2 a1

VA Esko vom Dänischen Hof

SchH3 a1

Jola vom Thermodos

SchH2 a1

Jacky v d Zomerdijkslanden

SchH3 a1

Baru von Haus Yü

SchH3

VA Natz vom Steigerhof

SchH3 a1

Nina von Tronje

SchH2

Flurin v d Zomerdijkslanden

IP1

Yassko von der Rotan Matter

SchH3 a1

Esther v. d. Zomerdijkslanden

VH1 a2

Irana's Dam:

Senia van de Herdersfarm

SchH2 a1

2x VA1 Yasko vom Farbenspiel

SchH3 a1

VA1 Ursus von Batu

SchH3 a1

VA1 (I) Hobby vom Gletschertopf

SchH3

Verena von Batu

SchH1 a1

VA1 Connie vom Farbenspiel

SchH3 a1

Eros v. d. Luisenstraße

SchH3 a1

Daggi vom Farbenspiel

SchH2

Cina van de Herdersfarm

SchH2 a2

Natz vom Steigerhof

SchH3 a1

VA (JPN) Nutz vom Münchberg

SchH3 a1

Paola v. d. Murrenhütte

SchH1

VA Xena vom Wildsteiger Land

SchH2 a2

VA Yago vom Wildsteiger Land

SchH3 FH a1

Gina vom Finkenschlag

SchH1 a1